International tour operator license
Tuan Linh Travel is one of the most renowned travel agencies in Vietnam to be fully granted the International Tour Operator License. Vietnam Administration of Tourism (VNAT), the official body that control all tourism activities in Vietnam, only issue the License for companies that meet their strict criteria such as:
- Having professional and creative working style.
- Having competent and enthusiastic employees who own valuable experiences and knowledge in tourism industry.
- Having financial ability to solve any problem incurred during the tour.
- Having responsibility in environment protection, reserving traditional culture towards sustainable development.
Appreciating our great contributions to the development of Vietnam tourism industry, VNAT has given Tuan Linh Travel the International Tour Operator License as an acknowledgement of Tuan Linh Travel's contribution to the development and prosperity of our country.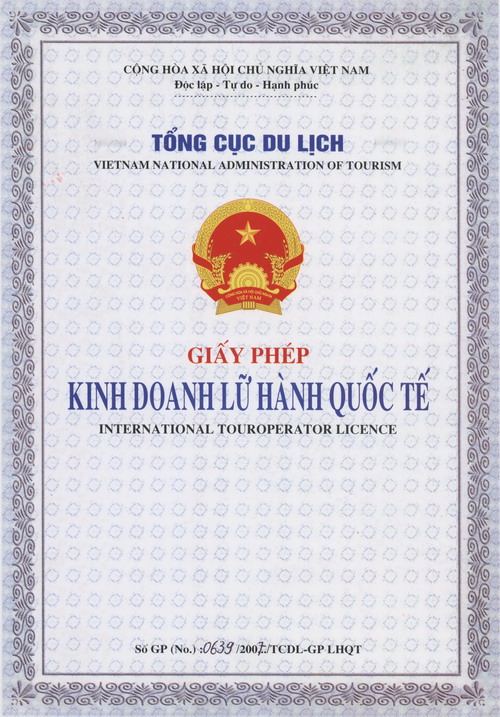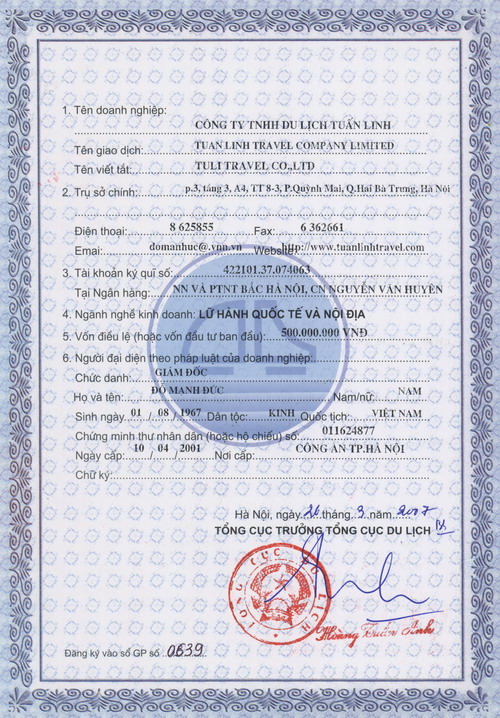 High Quality Tour Service:

Free consultancy

Online communication

Affordable, refundable

Customized service

Flexible, changeable

Interaction with locals

Authentic experience

Deposit, pay on arrival

Clear cancellation term

... I cannot thank you enough for our three week tour in Vietnam which included a few days in Cambodia ...

Roy, Spain

... Thank you for a great trip in the north of Vietnam! It was really good and everything was organized so good! ...

Fransesca, Netherlands
Copyright 2022 by Tuan Linh Travel Co., Ltd.
A member of Vietnam Travel Promotion Group (
VTP Group
)
Address: Room 509, 15T2 Building, 18 Tam Trinh Str., Hai Ba Trung District, Hanoi, Vietnam (
See map
)
Tel: +84.24.62768866 / mail[at]tuanlinhtravel.com
Online: 150
Visited: 1967